"You may delay, but time will not."  –  Benjamin Franklin
A lot of consideration and planning is done towards the sequencing of new features. This is vital to ensure that features are delivered as quickly as possible without causing disruption to your business. We then engage with customers to encourage transitioning to the new features. 
Most customers have transitioned to the new user access roles but there are still some that have not. The new roles are essential for the upcoming roll out of some major new features (which we hope to share with you soon).
There have been a number of enhancements to Elearning Integration with most customers having transitioned to the new version. We have also worked with customers to understand requirements for collecting Covid-19 Vaccination details and delivered a solution.
We love hearing your feedback so please let us know your thoughts on the latest updates.
Alister Smith
Business Innovation Manager
New Portal
The Wisenet Portal is being updated for enhanced security, usability and functionality. This will allow us to more easily add additional account and user management features in the near future. The new Portal is going through final testing and will be released soon.
There should be no impact to users other than an updated user interface. The only major change is that Settings has moved into LRM (see below).
Settings
Wisenet Apps Settings is now in LRM by navigating to LRM > Settings > Apps Settings.
These settings were previously available in the Portal by Portal Administrators. Now users with LRM Owner access are responsible to manage Apps settings. Relocating the settings to LRM allows all settings to be managed in one place for an account.
A quick reminder to ensure that you have transitioned Users to have the correct access levels before accessing Apps Settings.
LEARN MORE: Settings
COVID-19 Vaccination Status
The requirements for COVID are ever changing throughout different jurisdictions. We have opted to provide a flexible solution to capture Vaccination details, rather than very specific fields that would quickly become obsolete. A list of new fields include:
Learner

Personal Details – View and Edit Vaccination Status and Vaccination Status Notes
Profiles Special Care Panel – New items for Vaccination Status and Vaccination Status Notes when a value exists

Staff

Details – View and Edit Vaccination Status and Vaccination Status Notes

Settings

Dropdowns – Manage Vaccination Status values
We have created an article to help guide you through some examples on how you can track COVID-19 information.
Canvas Integration
Moving forward, when a Learner is set to 'Active' in Wisenet, the Learner will be automatically Accepted AND Enrolled in Canvas. The Learner will no longer need to manually decline or accept their Enrolment in Canvas.

Courses in Sub-accounts will now also sync to Wisenet from Canvas.
Moodle Integration
Now supports

multiple groups

. Must use ; as the separator eg. Melbourne; Bob Jones would ensure that 2 groups are set against the ElearningEnrolment in Moodle.

There is a new setting Elearning Groups Restriction which allows the customer to restrict Elearning Group management to Add ONLY.

This allows Group Management in both Wisenet and Moodle without Wisenet removing Groups added manually in Moodle
If this setting is NOT enabled then Wisenet is the source of truth and removes groups not set in Wisenet
Tweaks to New Roles
Since releasing new roles in September we have been making a number of tweaks based on customer feedback.
Move Course Offers
This feature allows users to move enrolments from one course offer to another. This was restricted to Owner or Admin roles. The following changes have been made:
PowerUser: able to 'Move Course Offer' when either an Application or Enrolment

User: able to 'Move Course Offer' when Application only
Revert Enrolment back to Application
This feature allows users to revert a Course Enrolment back to an Application. This was previously allowed for Owner, Admin, PowerUser and User roles. The following changes have been made:
User: The 'Revert to Application' option is now unavailable
Trainer Timetable
You can use the Trainer Dropdown within Timetable and select All Trainers to see all the trainers that have a class linked or assigned to them.
Agent Email Template
A new Email template is now available in Agent Logbook which can be set in both Settings as well as Agent Logbook.
Logbook File Download Options
You can now download and save a Logbook File by right-clicking on the actual file and selecting "Save link as".
NZQA Export
A new Search field has been added in NZQA Export. Customers should now be able to search by:
SetID

Provider Ref

Reject Reason

Export Date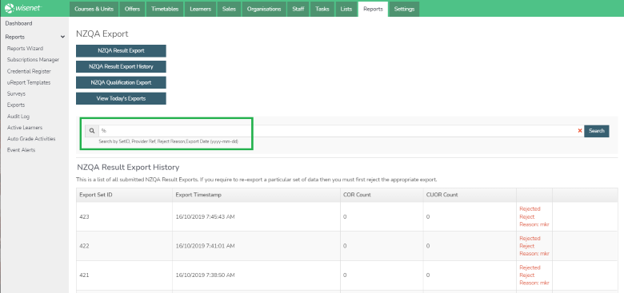 Status Reason is now labelled as Enrolment Status Reason
Previously known as Status Reason is now renamed as Enrolment Status Reason. Learncycle will be automatically updated to show the updated Enrolment Status Reason immediately if there's a change to any Status Reason.
Action Required!
If you are a Training Provider reporting to TCSI and you have not yet transitioned to the new Wisenet roles introduced last month, we then urgently request you action the following:
Allocate New Owner Role

– Connected Apps is now only available for the new role 'Owner'. Decide who within your organisation will be the LRM Account 'Owner' and

allocate this new access role

to the relevant staff member(s).

Resync TCSI Data

– Please r

esync TCSI data

from LRM>Settings>Integration> Connected Apps>PRODA/TCSI. We recommend resyncing data for all of September to ensure that all records are up to date in TCSI.

Monitor the Resync

– Use

Event Alerts

as well as

Report #0952 (TCSI Reported Data Overview)

to ensure that there are no issues syncing to TCSI.
When you log into Wisenet LRM, you can easily identify the User Role you are logged in as from the Footer section of the page.