Tasks allows tracking of activities required to complete work-related goals. They can be assigned to individuals or groups, with details of who it is assigned by and have deadlines and priorities. They can be added individually as needed, or automatically using Learncycles based on trigger events. You can add Tasks at a Learner level, Course Enrolment level and Unit Enrolment level.
With the Tasks feature in Wisenet, you will get a clear overview of all activities to easily organise and prioritise your work. Automate this feature to help you save time and never miss an important task.
Depending on user access, Tasks can be viewed in a number of sections in Wisenet, and the following are some of the main sections:
  The NEW Task Tab
The Task Board allows all users with access to the LRM to easily:
Search and Filter Tasks;
Get a complete overview of Tasks' Statuses, i.e. Not Started, In Progress, Pending, Completed;
Drag and Drop Tasks to update status;
Edit Tasks;
Add new Task; and
Email notifications sent to the Assigned Staff member when a Task is added or updated depending on User Preferences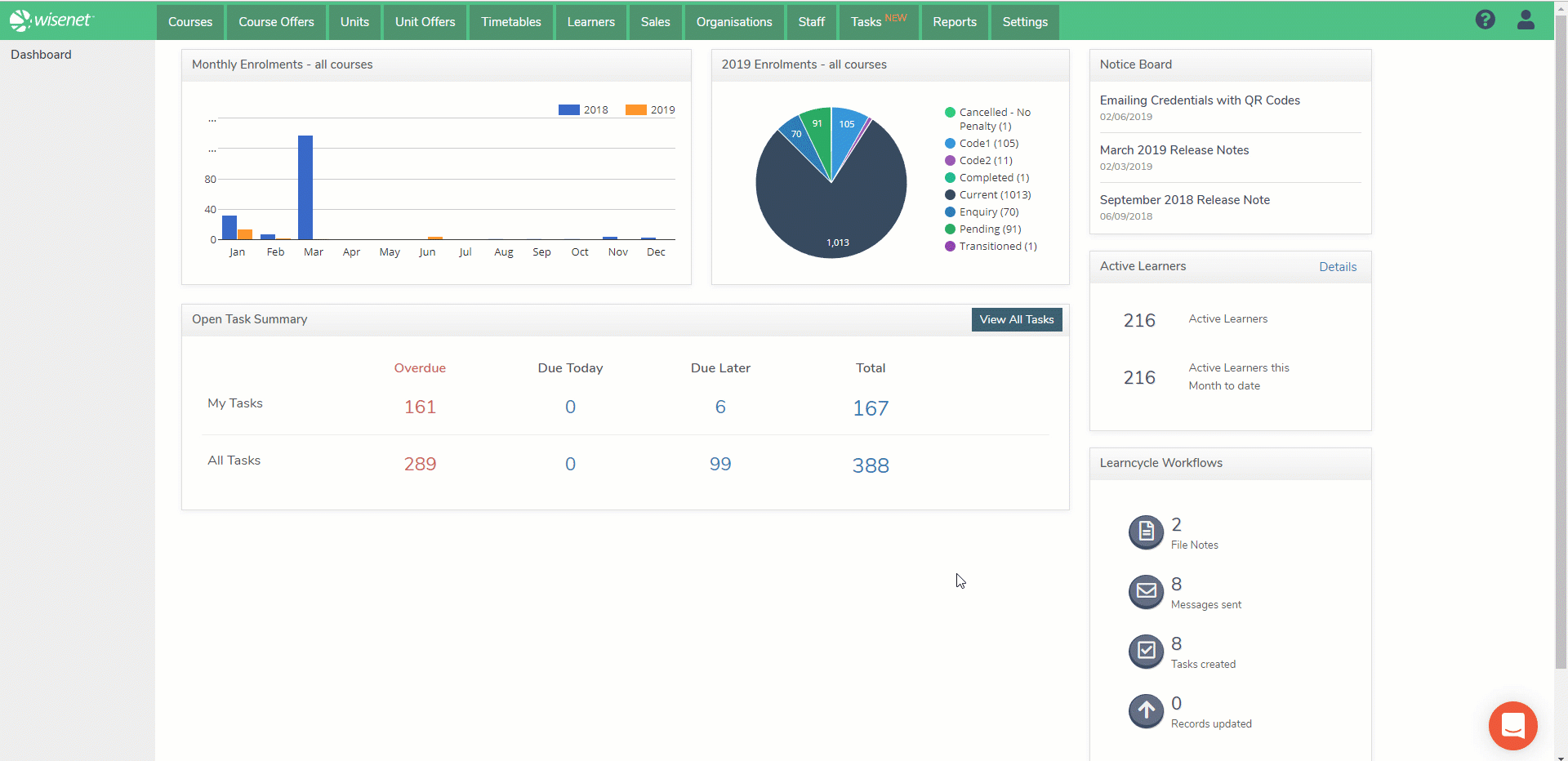 On Home Dashboard
On the LRM Home Dashboard, you can review a summary of Open Tasks. Click on each of the numbers to open the Task Board for that count.
If you need to view and manage all Tasks, you can click on View All Tasks from the summary section which will then open the new Tasks tab with your Task Board.
All Wisenet LRM Users – your My Tasks shows tasks assigned to you personally and tasks assigned to your role
Trainers (if enabled in your portal settings) – your My Tasks will show tasks assigned to you personally and tasks assigned to your role
Admin Users – All of the above, including all tasks regardless of who it's assigned to, under All Tasks
  In Logbook
All Users with access to the LRM can view Tasks in Wisenet. From all main sections of the LRM, e.g. Learners, Course Offer, etc, simply click on Logbook from the Left Navigation Bar and this will generate records of all Tasks.
Tasks can be created from various  locations within Wisenet. A list of all the Tasks in all Logbooks can then be viewed by anyone with an LRM Admin access.
Learn More? How to Manually Add Tasks
Automatically Adding Tasks
Get an insight on how Tasks can be used
Task visibility by Wisenet user access roles