The Wisenet team has been working in developing more new features for 2019 which also include process enhancements, compliance updates and bug fixes.
We have exterminated several bugs in this release. If you have logged one, we will contact you personally.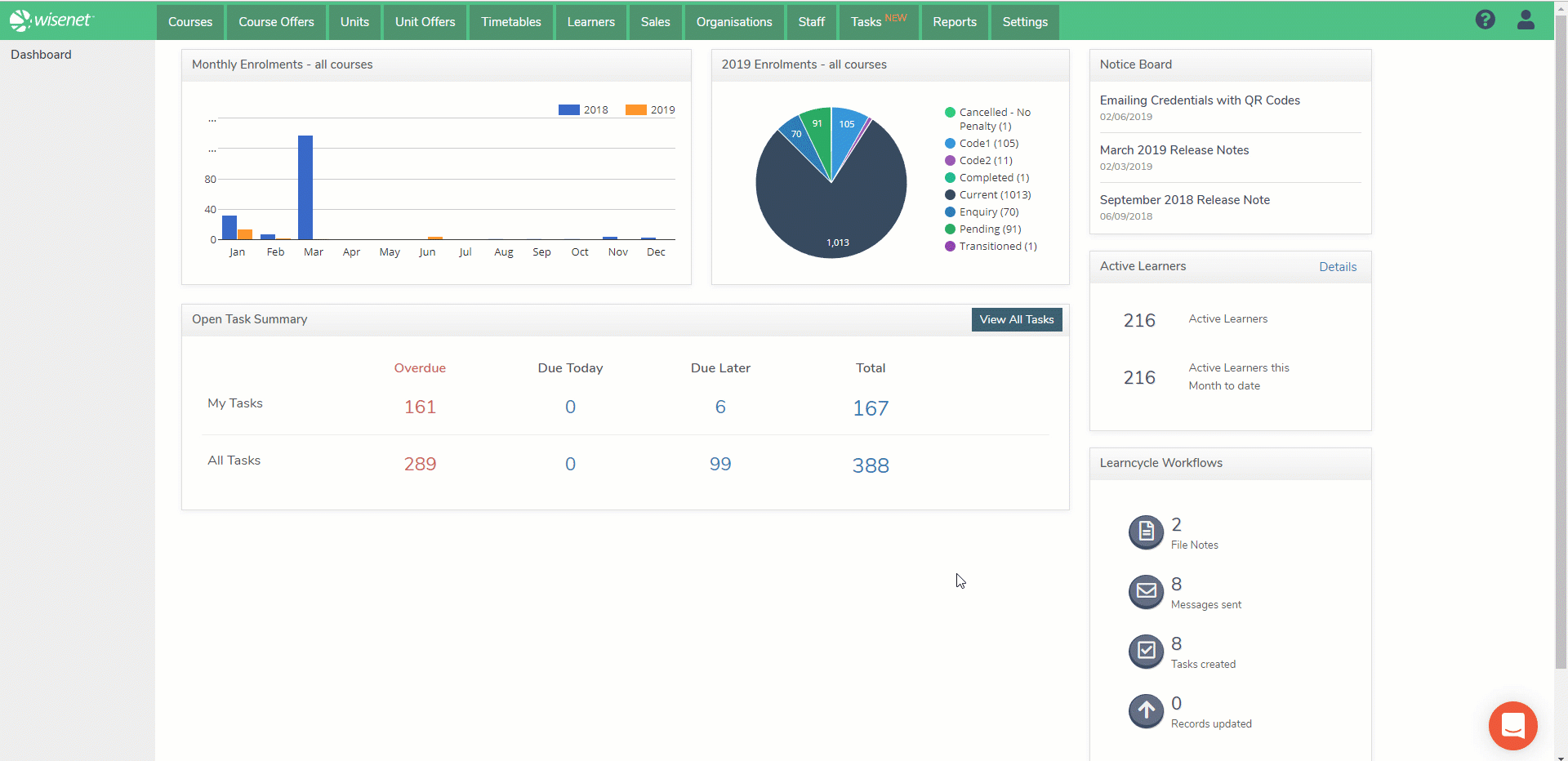 A single place to manage all your tasks with the
NEW

Task Board
Using the Tasks feature in Wisenet gives you a clear overview of all activities to easily organise and prioritise your work. Automate this feature to help you save time and never miss an important task.
The new Tasks section allows you to easily Search and Filter Tasks; Get a complete overview of Tasks' Statuses, i.e. Not Started, In Progress, Pending, Completed; Drag and Drop Tasks to update status; Edit Tasks; Add new Task; and Email notifications sent to the Assigned Staff member when a Task is added or updated.
NEW

Look and

IMPROVED

functionality
The Home Dashboard now shows a summary of Open Tasks. This eliminates the need to click around multiple tabs to view and manage all your Tasks.
Click on each of the numbers to open the Task Board filtered for that count.
If you need to view and manage all Tasks, you can click on View All Tasks from the summary section which will then open the new Tasks tab with your Task Board.
International Mobile Number
All Mobile fields in all applications (LRM, Learner App and Online Enrolment) now support International Mobile Number Country code. International code can be selected from the drop-down.
All existing mobile numbers of your applications have been automatically processed into the new format.
Other Product updates and Process enhancement
New USI values (Australia Only): INDIV, INTOFF, SHORT
File upload size increased – Total file upload size has been increased to 10MB and 5MB per file
Date of Birth field – Users will now be prompted with an '

Invalid Date of Birth

' notification if they accidentally entered the current year or, a future year, in the Date of Birth field
Improved filtering, sorting and paging capabilities
Improvements to documentation and performance
Enforce new mobile number format for all Mobile fields
Update Required and To Be Actioned by you if you use uReport Custom CAN Template
From 1st July 2019, VET Student Loan debts will be separated from other forms of HELP debts. Refer to the Explanatory Memorandum for more information on this new legislation.
If you make any reference to HELP debt and VET Student Loan debt in your custom CAN templates, you will need to update your template to now say VETSL debt.
All generic uReport templates have been updated with the correct term by Wisenet.
In March 2019, we released our new Sales feature with a stand-alone Sales section to help you better manage and convert your Sales Enquiries into successful Sales Applications even if you do not use Wisenet LRM. This is achievable with the two new roles you can now select, being: Sales and Sales Admin.
The Sales Dashboard provides greater insights into both current and historical sales activities.
Sales Contacts is a new entity created in Sales and can be linked to a Workplace, Agent or Learner in Wisenet.
Sales Logbook has option with File Notes, Tasks and Email Messaging capability.
Opportunities – a new Opportunity section where all old records have been moved to the new Opportunity model and mapped to the correct Sales Contact.
In the last three months we have been busy working on:
– performance improvements of the new Sales feature
– added Tasks to be used and linked within Sales
– improved the Sales Dashboards
– improved Sales Reports